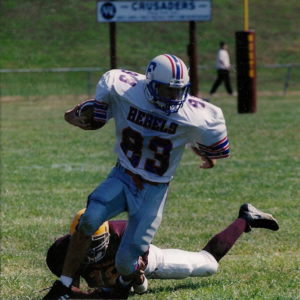 I played football in high school. It was a blast. I loved the experience and still cherish the memories.
But I was lucky enough to go to a small high school that played other small high schools. Which meant the players I hit (and hit me in turn) also tended to be relatively small. Believe me, I got flattened on more than one occasion. But every time, I bounced right back up without any ill effects. The equipment works…up to a point.
But physics is physics. I was a dude under 6 feet tall who wasn't that fast getting hit by other dudes under 6 feet tall who weren't that fast. But when a 6'6″, 300 lb dude who runs a 4.2 second 40 meter dash hits you at full speed, like in today's NFL? Short of one of those big sumo wrestler suits, I doubt there's any equipment in the world that could protect you from the ill effects of receiving that amount of force.
Football is a great game. People who don't understand it characterize it as a bunch of brutes pounding each other. But the mental strategy–the route running, passing trees, blocking schemes, coverage schemes, and blitzing schemes–is so sophisticated. It's both the most physically demanding *and* mentally demanding sport on earth.
I really hope we can figure out a way to rescue this sport from the fact that the strength and speed of the bodies flying around have obviously outpaced the ability of the equipment to protect those bodies. But the NFL is being a typical institution–burying its head in the sand, fighting change every step of the way, doing only the barest of minimums to address what's obviously a systemic problem for the sake of preserving its profits.
I don't want the game to go away just because the NFL is totally screwing the pooch with the concussion/CTE problem. Nor do I want the game to be totally stripped of its physicality. But surely we can figure out a way to preserve what's great about football without also dooming so many of its best players to decades of post-retirement suffering and early death? I don't believe this is impossible. There's just a lack of will in the NFL and those fans who revel in its barbarity to figure out how to capture the essence of the game and keep its players safe at the same time.